ADD YOUR EVENT HERE (You'll create / register an account and then be able to add your events, for FREE)



Dance Saturdays – LIVE Bachata (Main Room) & Salsa Dance Party with Lessons
September 30 @ 7:50 pm

-

October 1 @ 1:30 am
Dance Saturdays – LIVE Bachata(Main Room) , and Salsa Dancing, Multiple Rooms, Beginning Dance Lessons for ALL at 8p
You're invited to a special Dance Saturdays with Esme Live – Bachata Dancing and Salsa Dance Party!
This is the THE Place to learn how to Dance Bachata, and Salsa, from your very first steps, don't miss the multiple dance lessons starting at 8p, No partner or Experience Required!
Get your Tickets, https://dancesaturdays9-30-23.eventbrite.com
2 Rooms of Dancing Bachata (Main Room) and Salsa (2nd Room).
8p – BEGINNING BACHATA & SALSA CLASS
9p – INTERMEDIATE BACHATA CLASS
9:45p – DANCING ON TWO DANCE FLOORS (Bachata and Salsa)
10:30p – LIVE BACHATA, MAIN FLOOR
-> All Levels, NO partner or Experience is required to learn!
San Francisco's Hottest night of Bachata, Salsa, y Mas!
Get your Tickets, https://dancesaturdays9-30-23.eventbrite.com
https://linktr.ee/dancefridays (Get on the VIP List for Future Events)   
Learn to Dance at 8p, both Bachata with Beginning Dance Lessons AND Intermediate – no partner or experience required! These are the lessons to learn with!
Beginning Bachata dance at 8p followed by Beginning Salsa dance at 9:00. Dancing starts at 9:45p (New earlier start time). Dancing after 9:45. Lessons Kristin and other Bay Area super start teachers!
Yes, you can learn bachata and salsa dancing right there ! The classes are fun and social, and then you can celebrate with the best bachata DJs, Salsa, Bachata and more at the San Francisco Bay Area's #1 dance night, Dance Saturdays.
Tickets prices are $15 / $20 IN ADVANCE – $25 / $30 at the door.
Please visit this event page for changes, and updates, as we expect them to happen regularly.
** Please note: Tickets are NOT refundable or transferrable (please, do not ask). Ticket's can never be held from one concert to another (one date to another date).  You cannot bring water, cans, alcohol, food – this is an operating nightclub. 21+ With ID Only.
We have a full bar, vending machines, coat check, and an amazing dance floor!
We are amazing and unique San Francisco dance venue with:
- FUN Beginning (and also intermediate) dance Lessons EVERY Friday Night!
– Massive Hardwood Dance Floors – Incredible Sound and Lighting
– High Ceilings and Outdoor patio
– Centrally located with Plenty of FREE parking
- Full Bar, Coat Check, and massive. 🙂
- Up to 3 separate Rooms of Dancing (Please check schedule)
- Tons of Friendly, Fun, and Fantastic people to dance with.
- Massive amount of free parking. (While we do not have the problems that plague the rest of San Francisco, please leave no valuables in your car – this is still San Francisco).
Grab tickets NOW as the early bird tickets will sell out very quickly.
Get your Tickets, https://dancesaturdays9-30-23.eventbrite.com
https://linktr.ee/dancefridays (Get on the VIP List for Future Events)   
NOTE: All Tickets (even at the door) are sold via credit card. There are always tickets available at the door. Come out and Dance!
COVID: Please note, we strictly follow all Federal, State, and local guidelines.
#salsa #bachata #esme #bachatamusic #dance #dancing #nightclub #nightlife #bayareasalsa #livemusic #music #salsanight #bachatanight #salsadancing #salsadance #danceclub #bachatadance #bachatadancing #dancelessons #salsaclass #singles #socialdancing #bachateros #salseros #lessons #classes #salsaclasses #salsaclasses #bachatalesson #bachataclass #sanfrancisco #bayarea
- THIS IS A SPECIAL EVENT, WE ARE NOT WEEKLY (YET). DON'T MISS IT!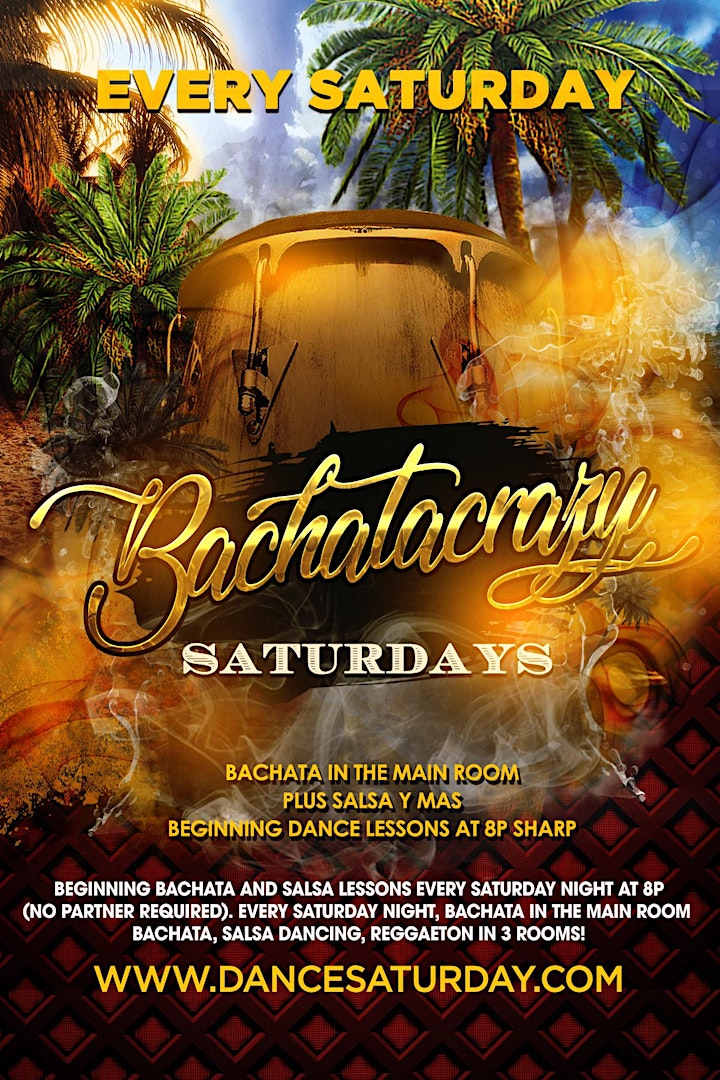 Related Events